Swift 228 Perception Lab
The Swift 228 Perception room contains five single-person booths for perception experiments.
All booths are equipped with Dell Windows XP pro machines. For simple recordings, a portable Marantz Flash and head mounted mic is available for use in any of the booths.
In general, we recommend that these booths be used for perception only experiments. For experiments that require audio recording, please consider using either the Swift 228-recording facilty or Cresap 105.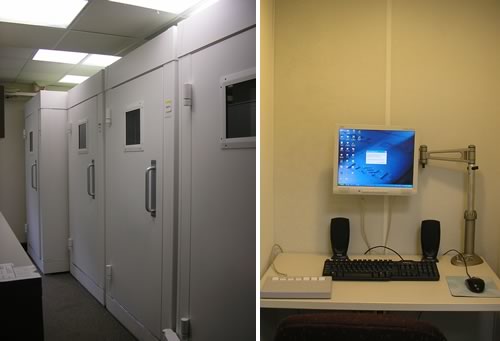 Equipment List
Two Dell PCs running Windows XP Pro
Five Intel Core 2 Duo Mac Minis running Mac OSX and Windows 7
Sony MDRV700 Headphones
Marantz PMD671 Portable Solid State Flash recorder
Shure WH20 Dynamic Head Mounted Mic
Booths
In the summer of 2010, the computers in each of the booths were upgraded to Intel Core 2 Duo Mac Minis. All computers are dual boot machines allowing you to choose either the Windows or Mac operating system.
To access any of the the Mac Minis, make sure the internet cable is plugged into the back of the computer, then enter your university NetID and password at the login screen.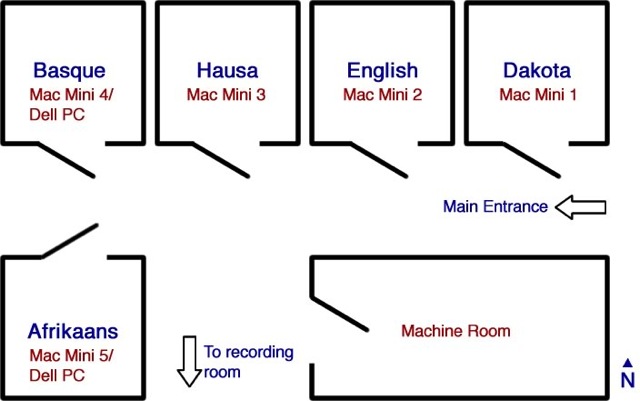 Recording Audio
Turn on the Marantz flash recorder.
Plug in the headmounted mic into Channel 1.
Have the subject mount the mic behind their ears and adjust the support band to comfort.
Place the microphone as close as possible to the mouth of the subject, just below the lower lip.
Press "record pause" and adjust the volume level to obtain the loudest possible volume without clipping the signal.
Pull the red record switch to begin recording.
Press stop to stop recording.
Remove the SD card from the SD slot.
Insert the SD card into the card reader and plug the card reader into your USB port.
Copy your audio files from the SD card reader and delete the originals.
Return the SD card into the Flash recorder.